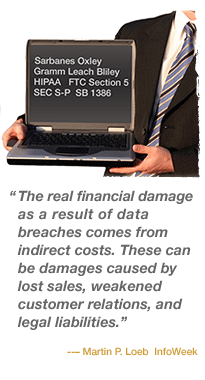 For Personal Data Loss and Identity Compromise Events

Jump to Data Breach/Rapid Response Program info


If one of your customers' personal data files were to be lost, stolen or your database hacked, would you know what to do next?



Would you know how to respond to that customer -- and all your other customers?



How soon?



Who else needs to be notified?



If you do nothing, what recently enacted state and federal laws might be violated?



And the fines and penalties?



Today these and other questions concerning personal data loss and ID theft risks due to a database breach, stolen laptop or other identity compromise event are more important than ever.

When it comes to protecting the most valuable people in your business, actions really do speak louder than words. That's why we've created a data breach response program that's quick to implement, won't cost a fortune and will go a long way towards minimizing the fallout from customers, shareholders and regulatory agencies.

And the fallout can be severe. Recent studies show the cost of failing to protect customers' private data is on the rise.
Nearly 23 million adults received a data breach notification in 2007

20% immediately terminated their account with the company

40% are considering termination

Average remediation cost is $197 per lost record

Lost business opportunity cost rose 30%, from $98 in 2006 to $128 in 2007

Breaches by a 3rd party account for 40% of total

Average total per-incident costs: $6.3 million

*Source: The Ponemon Institute

And those penalties?
Regulatory actions from OCC, HHS, SEC, state insurance authorities, etc

FTC and State Attorneys General actions

Class action concerns

Fines, injunctive relief, damages, and potential criminal penalties



Would you like to know how to reduce your compliance risks and costs?

Click Here to Start Being Proactive


Or Send to an Associate

---
Cover My ID!
Data Breach Rapid Response Program
CorpCompliance@CoverMyID.com